Fun Today.
Success Tomorrow.
Seasonal and Year-Round Opportunities!
Why We Love Working at Schlitterbahn New Braunfels:
Right next to the Comal River, in the heart of town.
The river's refreshing, cold, spring-fed water is featured in several rides.
Awarded 'World's Best Waterpark' for 22 years and running!
The Master Blaster, the world's most award-winning water park ride.
A seasonal job with us can help lead you to a successful future.
That's because you'll have the chance to:
Get real-world experience in how our business operates.
Develop skills that look good on a resume or application.
Interact with different people of all ages and backgrounds.
Learn about cash handling, inventory, customer service,
food preparation, safety and much, much more.
Working with us is an opportunity that can pay off
for years to come – with skills, knowledge, experiences
and friends that can last a lifetime!
Download PDF
Perks of the Park
Discounted meals in the employee café.
First set of uniforms free.
Opportunities of 4 - 40+ hours per week during the operating season!
LP.SKU-27.TITLE
There are many reasons why I've returned season after season. You build lifelong friends. Some of my best friends were made at Schlitterbahn. I still talk to people I meet my first season! There is great opportunity to grow as a leader and a person. Former leads and superiors helped shape my leadership style and helped me become more confident around people and take up leadership roles myself and grow skills I'll use for a lifetime!
– Anthony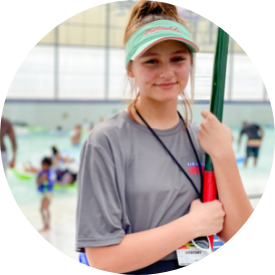 I've always loved the people I meet each year, it's such a huge cycle of new faces and I've made dozens of lifelong friends from working here. I've also developed a lot of social skills here. I used to be extremely awkward and hated speaking in front of crowds but I have come a long way since then and I'm very confident in how far I've come since starting here back in 2013.
– Caitlin
Working with Cedar Fair allowed me to experience different areas within my field. From this opportunity I was able to take the skills I had learned and apply them to my career. It also helped me to realize my strengths and make better career decisions down the road. During my employment I was able to develop both soft skills such as communication and leadership, as well as job specific skills such as interviewing and data management. As I progressed through my roles at Cedar Fair, I was able to learn and develop new skills along the way.
– Lisa
Our Talent Network
Join our Talent Network so you can stay connected and be alerted to future opportunities
Join